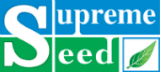 Supreme Seed Company Ltd.
10, Gareb-E-Nawaz Avenue, Level-3, Sector # 13, Uttara, Dhaka-1230, Bangladesh
+88 01713145100
[email protected]
About Supreme Seed Company Ltd.
Supreme Seed was founded in the year 1978 by its Chairman Mohammad Masum, a dedicated agriculturist. Since its inception, it has achieve significant growth in seed sector, directed and managed by a group of highly skilled and experienced professionals in the field of agriculture. Supreme Seed specializes in Production, Processing, Marketing and Breeding of field crop and vegetable seeds. It is currently working towards further genetic improvements, infrastructure and resource development.
Search All Business Categories