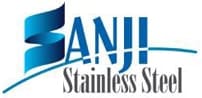 Sanji Stainless Steel Industries Ltd.
Green Orlando (6th Floor), 42/4 Pragati Sarani, Baridhara, Dhaka-1229, Bangladesh
+88 01755693885
[email protected]
About Sanji Stainless Steel Industries Ltd.
Sanji Stainless Steel Industries Ltd. (hereinafter referred as "SSSIL" or The Company), is a private limited company incorporated on March 07, 20I3 under the company Act 1994 with the authorized capital of BDT 100.00 million and paid up capital of BDT 50 Crorer. The company has been engaged in importing and trading different types of stainless steel coil/ sheet. SSSIL has been involved in manufacturing various types and diversified size of stainless steel products such as, round pipe, square box, rectangular box, design pipe, 8K Mirror sheet, Matt sheet, Hair line (201 & 304 Grade). At the beginning of 2012, the company have set up a stainless steel factory with latest world renowned machineries & technologies where have Sharing line, Slitting line, Tube making machine, polishing line, Spiral machine & Laser print machines of Korea, Design Pipe Making machines of Taiwan and Welding machines of Millar, USA with the intension to produce best quality products having maximum strength, shining & durability. World class stainless steel is the motto of Sanji Stainless Steel Ind. Ltd. At present the company earned goodwill of its own branding in the SS Market in Bangladesh. The registered office of SSSIL is located at Green Orlando Building, 42/4, Progoti Shoroni, Baridhara, Dhaka-1229 as well as the company have an owned factory premises located at Dhaka – Shingire highway at Nandhakhali, Rajfulbaria, Savar, Dhaka.
Search All Business Categories