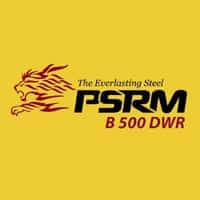 Premier Steel Re-Rolling Mills (Pvt) Ltd.
BSC Tower (20th Floor), 2-3 Rajuk Avenue, Dainik Bangla Circle, Dhaka-1000, Bangladesh
+88-02-47120141, Mob: +88 01711568117
[email protected]
About Premier Steel Re-Rolling Mills (Pvt) Ltd.
Premier Steel Re-Rolling Mills (Pvt) Ltd. | The Premier Steel Re rolling Company (PSRM) is imbued with a forward looking vision to acquire a global perspective and become a first rate business conglomerate. PSRM has a track record in manufacturing of mild steel structural Re-bars and Wire products in Bangladesh since decades.
With many years of experience in the steel manufacturing industry, PSRM has a strong reputation history in adding value to its customer and dealer relationships maintaining standard quality product with exact section weight, accurate shape and timely delivery.
Our core philosophy is to produce safe, environment friendly and sustainable steel to our loyal customers and safety is the top priority in our works. Additionally, the pursuit of business excellence is our standard norms and significant focus on innovations, continuous research & development is our standard practice on national interest.
For the development of any modern economy, steel is vital and is considered to be the backbone of human civilization. The Steel industry is an established and growing industry in Bangladesh. PSRM has been endowed to expand the unparalleled faith of people. 'Strength & Safety' is the ultimate motto of the company. Our products are being used at Govt. sector, real estate, and concrete roads, fly over & bridge etc. nationwide.
PSRM is manufacturing High Quality international Standard TMT bar in brand name of 'PSRM TMT 500-550W GOLD'. We want to achieve our long term goal rather than short term goal by implementing new technologies, developing new products and attributes.
Search All Business Categories