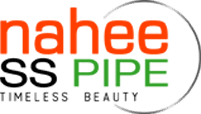 Nahee SS Pipes Industries Ltd.
House # 26, Road # 03, Block # I, Banani, Dhaka-1213, Bangladesh
+88 01777763482
[email protected]
About Nahee SS Pipes Industries Ltd.
We have started our journey with the aim of manufacturing best quality products and rendering excellent customer service. Keeping this in mind, we have established Nahee Aluminum Composite Panel Ltd. and Nahee Geo-Textiles Industries Ltd. The products of these industries are most advantageous with highest level of quality. Following the success of these industries, in the year 2015, we set up Nahee SS Pipes industries Ltd. at Abdar, Telehate, Sreepur, Gazipur, Bangladesh. This factory is established on 12 acres of land. We manufacture different types of stainless steel pipes. To ensure the manufacturing of the best quality stainless steel pipes, we have set up the most advanced machineries in our factory and adopted the latest technologies. Besides, we use the best quality raw materials in producing our products. We have our own delivery pickup vans to ensure delivery of products to the customers timely throughout the country. We are able to deliver the products from our factory and warehouse at Dhaka.
Search All Business Categories