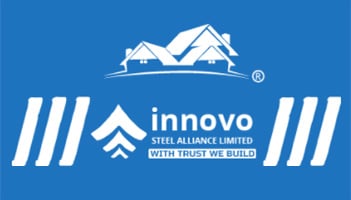 Innovo Steel Alliance Limited
Corporate Office: Sundharam Plaza (3rd Floor), 20/3/A West Panthapath, Dhaka-1205, Bangladesh
+88 01616070107, 01795984000
[email protected]
About Innovo Steel Alliance Limited
Innovo Steel Alliance Limited was incorporated in 2016 with the vision of providing its clients with hi-tech, prefabricated and pre-engineered building solutions at a highly competitive price. It has a well-equipped factory plant of 4,250 square meters with state-of-the-art new generation machinery and equipment.
Innovo Steel Alliance Limited is an established business, dedicated to providing the construction industry with innovative and economical prefabricated steel framing for the wall ceiling and external cladding construction. Our focus has always been on quality, service and design flexibility to meet our customers' requirements for any project, for both internal and external steel framing.
Innovo Steel Alliance Limited has been designing and building steel frame homes and buildings since 2012. Our business is based on sound engineering practice and an unparalleled grasp of geometry. We thrive on the jobs that other companies do not wish to attempt. Whether your job is big or small, Innovo Steel Alliance Limited will design the package and supply it to meet the applicable specifications and codes. Small home packages to 120,000 square feet industrial complex have been built with our system. We pride ourselves on our customer service. Our motto is "treat others as we would like to be treated ourselves".
Innovo Steel Alliance Limited specializes in steel frame homes and commercial steel building kits. Our steel frame homes feature incredible energy efficiency and are wind and seismic resistant. Our innovative wall and roof systems are designed by our highly skilled engineering team. These features make them structurally superior to other framing methods, particularly in coastal and earthquake prone areas.
Give us a call or send an email for further inquiry on Innovo Steel Alliance Limited. Be sure to browse our "why Steel?' section to learn more about the benefits and structure of steel frame building systems.
Search All Business Categories