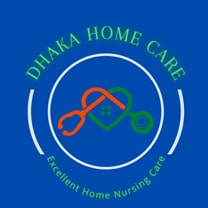 Dhaka Home Care
House # 12, Road # 6, Turag City, Mirpur-1, Dhaka-1216, Bangladesh
+88 01766149264, 01601112245
[email protected]
About Dhaka Home Care
Dhaka Home Care BD is a nursing service agency that is ready to provide you empathetic, caring and qualified nursing care since 2012 with the best service. We are a reliable and well-trained team of nurse's aides and trained professionals.
We serve our patients with utmost care. Not just like a doctor, but like a family member, we provide emotional support so that they recover quickly. We believe that mental support and care are as important as physical treatment. And that's why we care about these things also.
We always provide our services based on the advice of a specialized doctor and a half. Our doctors & nurses are first-class & that's why we can provide you the best care.
Physiotherapists, nurses, and doctors provide home visits. They are screened by a senior medical professional following our strict recruitment standards and pass our medical background screening.
So, we made it easier to rent lab tests and medical equipment at home, making healthcare more accessible to our patients. For all things, our patient is always very satisfied and happy which is our desire.
Search All Business Categories