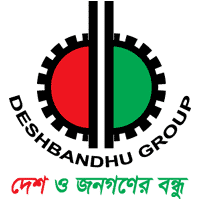 Deshbandhu Cement Mills Ltd.
Mostafa Center, House # 59, Road # 27, Block # K, Banani, Dhaka-1213, Bangladesh
+88-02-41081489, +88-02-41081495-6
[email protected]
About Deshbandhu Cement Mills Ltd.
Deshbandhu Cement emerged in the market of Bangladesh by thriving consumer demand and confidence. The aim of Deshbandhu Cement Mills Ltd is to establish its brand as a rising contender in the construction sector of the Real Estate Industry. Fineness, Strength, and Standard Blending Proportion are the three Raw materials from which the quality is marked. The client is ensured to have both product satisfaction and service delightfulness of their on-time demand delivery.
It has been equipped with ultramodern machinery and skilled manpower which runs on the entire chain of process cycles. It strengthens the group's intention to make the biggest cement producer and a popular brand in the Northern part of Bangladesh.
Search All Business Categories