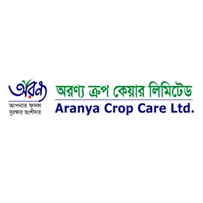 Aranya Crop Care Ltd.
H.M Plaza, 9th Floor, Room # 03, Plot # 34, Road # 02, Sector # 03, Uttara C/A, Dhaka-1230, Bangladesh
+88 01762-620108, 01762-620106
[email protected]
About Aranya Crop Care Ltd.
Aranya Crop Care Ltd. is a company registered in 2004 under the Act of Registrar of the Joint Stock Companies and Firms of the Government of the People's Republic of Bangladesh. Aranya's main activities are import, repacking and marketing Pesticides (Insecticide, Herbicide and Fungicide). Besides Pesticides, it also imports Micronutrients (Zinc Sulphate, Boron and Magnesium) and Plant Growth Regulator followed by repacking and marketing of those.
Aranya's Head Office is situated in Commercial Area at Uttara, Dhaka and it has a modern repacking unit at Kathgora, Ashulia, Savar which is 40 KM off from Dhaka. We repack each and every product from this repacking unit and in the unit there are 55 skilled staff members who are giving their wonderful services in doing so.
We have 57 licenses comprising Pesticides-49 (Insecticides-26, Fungicides-12 & Herbicides-11), Microneutrients-8 and Growth Regulator-02 for Import, Repacking and Marketing. We have also Seed Production license. Every license is provided by the Ministry of Agriculture of the Government of the People's Republic of Bangladesh.
We have a professional Marketing and Sales Promotion team consisting of 195 skilled & energetic personnel. They contact farmers in grass-root level, visit demonstration field and doing other marketing works daily with all efficiencies.
We have 855 distributors and 6500 retailers all over Bangladesh. We have our own covered van to supply products to our distributors as and when they have their requirements. Besides, we also hire vehicle to supply our products whenever such need arises.
Search All Business Categories