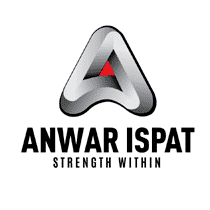 Anwar Ispat Ltd.
Baitul Hossain Building (12th Floor), 27 Dilkusha C/A, Dhaka-1000, Bangladesh
+88-02-223384033-5
[email protected]
About Anwar Ispat Ltd.
Anwar Ispat Ltd. | The Century Old Anwar Group has been in the steel making industry since 1978. Ever since its entry into the mild steel market with 60 grade product for the first time in Bangladesh, the group has continuously upgraded itself to bring the world's latest & most advanced technology to the Bangladeshi market. Since its launch, Anwar Ispat 500W has been redefining the Bangladeshi Re-bar market. Committed to bringing the world's best technologies to the country, the group boldly opted to introduce Europe's pioneering technology from Belgium for its Quenching or TMT process. For Rolling the group introduced, worldwide acclaimed rolling technology under US-Patent No 4.629.165 & US-Patent No 4.790.164. Anwar Ispat is the only proud user of such patented technology in the local rolling industry. Anwar Ispat, with its 500W Re-bars, gallantly leads the Country's mild steel industry into export market. This achievement within one year of its launch is attributed to the Group's commitment to technology & relentless devotion of TEAM Anwar Ispat. This glorious achievement, the group hopes, shall open a new era for the Country's much required diversification of export base and will inspire TEAM Anwar Ispat to aim even higher in the future.
Search All Business Categories