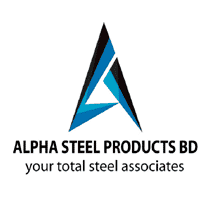 Alpha Steel Products Bangladesh
House # 06, Plot # 2515, Syed Nogor Auto Stand, Madani Avenue, 100 Feet, Nutun Bazar, Dhaka-1212, Bangladesh
+88 01841066771, 01970066771
[email protected]
About Alpha Steel Products Bangladesh
Alpha Steel Products Bangladesh is one of the trustable  way among steel building material suppliers in Bangladesh with our powerful combination of expertise, experience and industry connections. We are metal building supplier that meets your specific needs – Alpha Steel Products Bangladesh has been providing quality pre-engineered metal buildings material supplier in Bangladesh and the surrounding areas and it is considered a leader in customer service and integrity. your first choice for high quality flat rolled steel coils. We Supply furnishes Galvalume®, galvanized and preprinted steel coils, building primary and secondary, ventilation and nuts bolts for metal roofing and siding applications to the agricultural, commercial, industrial and residential markets, both domestically and for export.
Our team consists of technical experts who understand the requirements and research required to provide evaluations for any site location our customers may choose. We provide that expertise to help our customers optimize their building assets, improve their competitive position.
​Many of our projects are for repeat customers.  Alpha Steel products Bangladesh Company has consistently delivered quality construction services and products. We operate with the same integrity and enthusiasm for each project. We believe that is the only way to build relationships that last.
A quick review of this website will show you that we are unlike any other contractor in our country. We are a design-build general contractor for low-rise steel-framed buildings.  We are so good at constructing the concrete foundations as well as designing, furnishing and erecting the steel buildings that we often perform one or more of these services for other contractors, EPCs and owners. We really excel when the project designs get complicated.
Unlike other contractors, we have an Industrial Services division that provides maintenance and small project services for our customers long after the building project is complete. We also have our own steel fabrication shop including in-house modeling and detailing services. We bundle this all together to provide the best service and most competitive pricing in Bangladesh.
We recognize no higher priority than complete customer satisfaction. Therefore, our mission is to continually and relentlessly deliver on our commitment to provide quality construction services and products and build long lasting relationships.
Search All Business Categories